Stewardship and Volunteers at the Woods Hole Science Aquarium
Part of the NOAA Fisheries mission is stewardship of the nation's living marine resources. At the Woods Hole Science Aquarium, that means taking care of the fish and other live specimens on display and teaching visitors about the animals that live in local waters.
Overview
Volunteers help the Aquarium staff care for the animals. The volunteer program is an opportunity to learn about aquariums and animals, explore career paths, and contribute to the welfare of marine animals, including some endangered species. 
Volunteers do not need to already have aquarium skills or experience in animal husbandry. The Aquarium staff trains each new volunteer when they begin work. The Aquarium often has openings for volunteers, although there may be a waiting period. Anyone interested in volunteering may email the Aquarium staff.
We do not accept new volunteers during the summer months.
Volunteers help with many tasks:
Preparing food.
Feeding animals.
Cleaning tanks.
Projects such as changing exhibits or updating signs.
Volunteers stay with us for extended periods and may be invited to participate in special events.
Requirements
Be at least 16 years old.
Able to work 3 to 4 hours once a week, at least 4 consecutive months.
To work with seals in the collection, make a 9 month minimum commitment.
Volunteer Facts
At any one time, 5-10 people are enrolled as Aquarium volunteers.
Volunteers range in age from high school students to retirees.
Volunteers include students, teachers, technicians and scientists from other labs, and local citizens with no other connection to marine sciences.
Volunteers contribute more than 1,000 hours per year.
The Northeast Fisheries Science Center's Jane Foster Award for Outstanding Volunteership is named for a volunteer who worked many hundreds of hours in the late 1990s.
About Our Volunteers
In the summer, we offer public collecting walks in local estuaries. Our aquarists and interns serve as naturalists on the walks, teaching about life in salt marshes, demonstrating how to collect animals, and identifying the catch. Sometimes we bring animals back to the Aquarium to add to our collection.  
Staff also host and participate in special events each year on Earth Day, World Ocean Day, and Endangered Species Day. The Woods Hole Science Stroll in August provides an opportunity for visitors to the Woods Hole Laboratory and Woods Hole Science Aquarium to learn more about local species through hands-on activities and exhibits about fish and shellfish, whales, sea turtles, and seals.
Meet Some of Our Volunteers
Ken Reed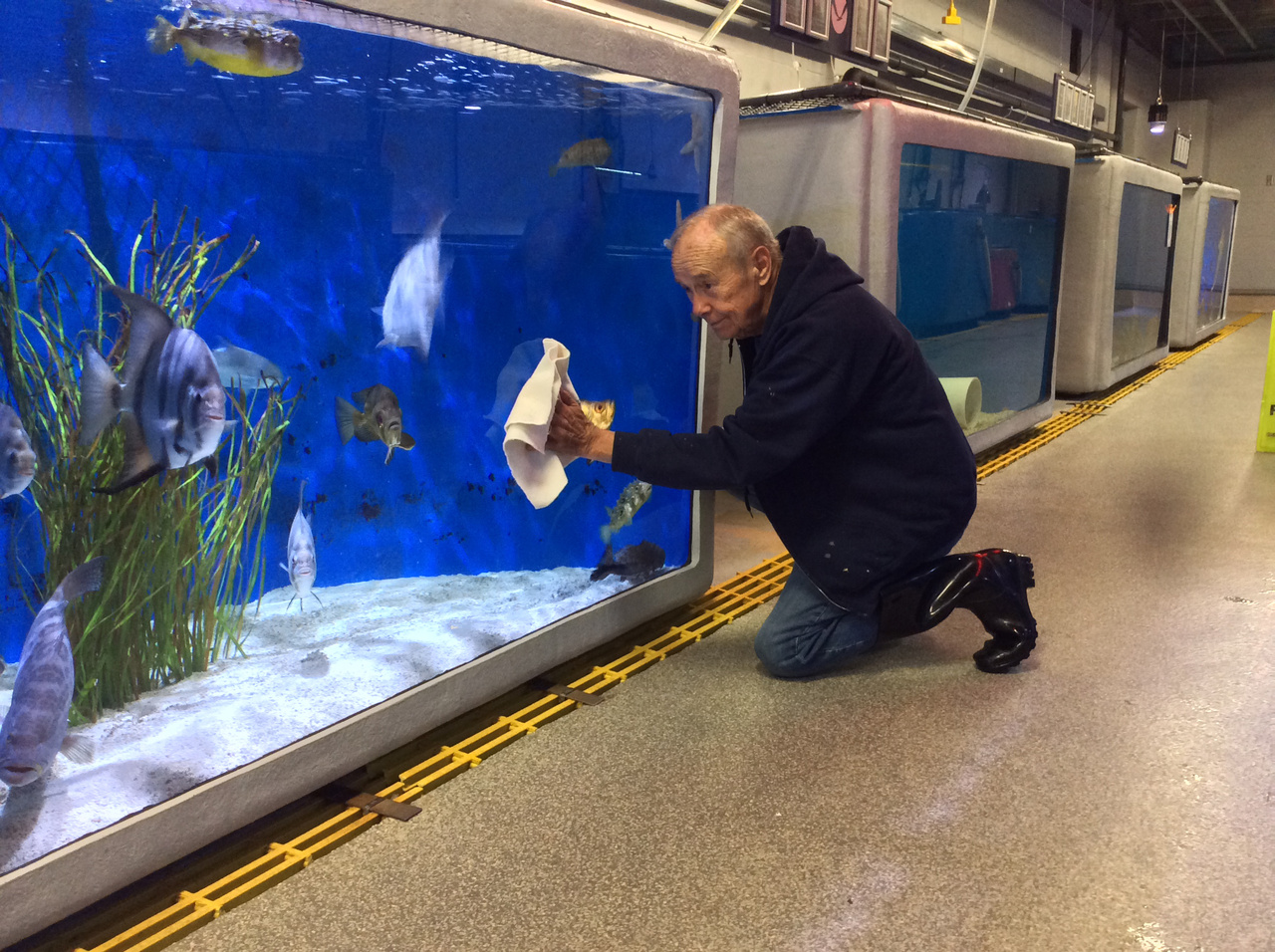 It's Monday, and the Woods Hole Science Aquarium is closed to the public. But inside, you'll usually find Ken Reed busy at work in the Aquarium's behind-the-scenes area on the second level: hosing down the ditches, floors, and tanks, replacing tank pre-filters, and doing odd maintenance jobs.
He spends about 3 hours each week getting the area ready for public hours. After hundreds to thousands of people have toured the facility each week, Reed helps remove fingerprints from the tank glasses and debris off the floors.
"I would pay them to let me work here," he says with a smile. "I love it.  I have a routine and just go about my duties. The staff and the other volunteers are friendly and really nice. I've brought my children and grandchildren here through the years, and it is nice to help keep it looking good in some small way." 
Reed has been volunteering since the summer of 2010. He saw an ad in the local newspaper looking for volunteers, attended the orientation meeting, and says he doesn't mind wearing boots and getting wet or being around fish. "They don't talk back, but they do have personalities I can tell you that!"
Born in Newton, Mass., Reed has lived in Falmouth since the 1950s when his future wife brought him to town. He is a manufacturer's agent during the rest of the week. A Korean War veteran who went to college on the GI bill to get a degree in liberal arts, Reed worked as a sales representative for a large company for four years but decided it was not for him.  Instead, he started working as a manufacturer's representative for small family-run businesses, serving as their salesman. Decades later, he is still at it and still enjoying working with people who are committed to their family business.
But on Mondays, the Aquarium is his focus for a few hours. Sometimes he brings in a box of doughnuts for the staff to share before he starts hosing down. If he takes a minute from his work, he might tell you he is also a painter. And if you ask him to see his paintings, Reed will show you the walls of the Aquarium's reception desk area, and the inside back wall of the second level where the touch tank and other display tanks are located.  He painted those over a period of time "to help keep it nice for our visitors."
Meet Kelly Savignano
Retired teacher Kelly Savignano has kept her connections to young students and education alive by volunteering at the Woods Hole Science Aquarium.
"I love ocean life, and I love to teach and be around children," she said during a recent morning at the Aquarium. She had just finished "teaching" kindergarten students from East Falmouth Elementary School and other young visitors and their families about the marine creatures in the touch tank.
The youngsters, and adults with them, followed directions and touched the sea urchin, whelk, and sea star she was holding in her hand gently with two fingers, careful not to harm them before she returned them to the tank.
A resident of North Falmouth where she and her husband retired, Savignano volunteers when there are large school groups visiting and helps staff the touch tank during the busy summer months. She knows all the animals in the Aquarium's display tanks, and says "Queenie," a queen triggerfish, is one of her favorites.   
Savignano taught third and fifth grades at Needham's Newman Elementary School for 8 years before retiring and moving to Falmouth. She and her husband own a business but spend winters at a second home in Naples, Florida. There she loves to collect shells and do shell crafts, and enjoy the boat they bought last year.
"I brought my children here to the Aquarium as youngsters, and it is rewarding to be back in a different capacity years later, helping to educate visitors from all around the world about the marine life in our local waters."
---
More Information