Large whale entanglement response is a difficult and demanding responsibility, requiring long hours, heavy physical exertion, and enormous amounts of specialized training. These positions are usually voluntary with few paid positions available. Fortunately, a growing number of highly skilled women have entered the field and are changing it for the better. This has expanded the reach of the West Coast Large Whale Entanglement Response Program. They bring additional skills, capacity, and expertise to teams that often respond to reports of entanglements on a moment's notice.
By lifting each other up through mentorships and professional development opportunities, these women have overcome barriers and have shaped and diversified a traditionally male-dominated field. Through leadership skills—such as the ability to stay calm under pressure—and knowledge of the marine environment, these women have strengthened the field and have countered cultural stereotypes.
Large whales periodically become entangled in fishing gear or in marine debris. Whales that are entangled can suffer from injuries and infection. Entanglement can interfere with their ability to swim, feed, breathe, as well as other vital functions. Severe entanglements can even lead to death. In 2022, teams responded to 22 of the 30 confirmed entangled whales off the coasts of Washington, Oregon, and California (PDF, 4 pages). Response teams are trained in whale behavior, biology and health, vessel operations, health and safety, handling ropes under tension, and coordinating entanglement response teams. Responding to large whales is inherently dangerous, and only trained and authorized responders should approach an entangled whale. Meet some of these responders below.
Peggy West-Stap
Peggy is the Executive Director of Marine Life Studies in Moss Landing, California. She co-founded the Whale Entanglement Team with Mary Whitney of Fluke Foundation in 2006 after realizing there were no whale disentanglement teams north of Los Angeles. WET® is a group of volunteer marine professionals assembled and trained to support large whale entanglement response. Moss Landing is at the center of Monterey Bay, an active area for both whales and fishing where entanglements frequently occur.
West-Stap says the best part about her job is working with people passionate about whales and the environment. "I've met so many people and have trained people to move up in the Program," says West-Stap. "It is very satisfying to watch as they grow and advance in their involvement to help save whales."
West-Stap also developed the Research Scientist Program, which trains citizen scientists to collect extensive data during boat surveys. They also learn to understand whale behavior, situation complexity, incident command, vessel operations, and safety prior to participating in whale rescue events. West-Stap is involved in developing ocean literacy educational programs and in 2019 launched the Unseen and Beneath the Surface: Derelict Fishing Gear Removal Project, a project to scan the seafloor to detect and remove derelict or lost fishing gear. More than 1,400 pounds of derelict fishing gear has been removed from Monterey Bay National Marine Sanctuary so far.
West-Stap is one of the primary responders of the West Coast Large Whale Entanglement Response Program. Asked to describe a typical day at work, West-Stap responded, "A typical day working would consist of dropping everything to respond to an entangled whale. I've canceled presentations I was going to give, doctors' appointments, and have had to leave my family, or cancel personal plans on very short notice. I'm dedicated to saving whales, even though sometimes it puts a toll on my personal life."
West-Stap feels a duty to protect whales, "I'm passionate and want to save as many whales as possible. That's what the Program should be about. The whales are the ones that suffer. I will continue to drop everything, knowing that I gave my best effort to give a whale another chance at life. Over the years it has been a struggle for a woman to move up in the Entanglement Program. I'm still working to overcome those challenges, but will continue to fight so it paves the way for other young women I have the pleasure of working with."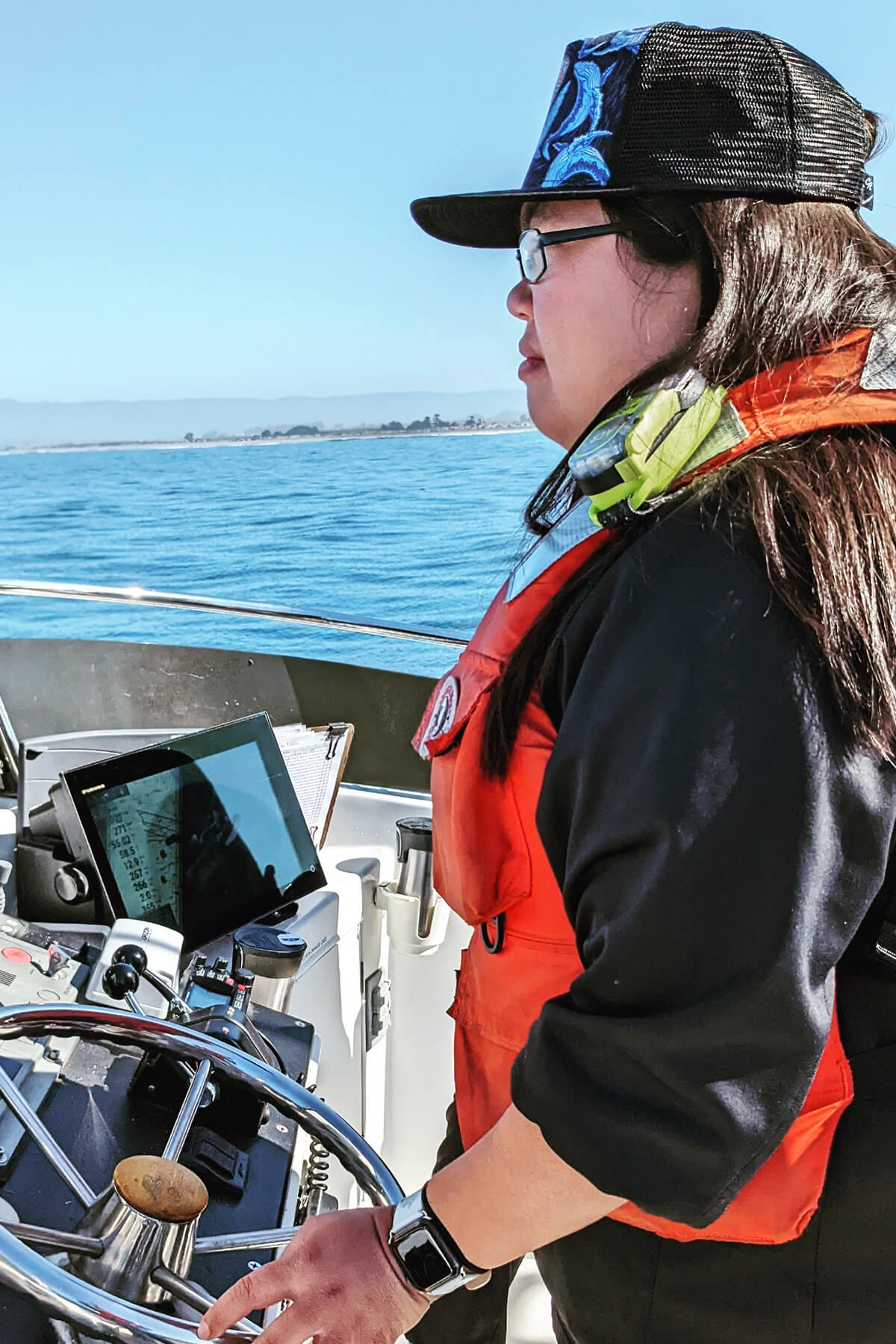 Stephanie Marcos
Stephanie embarked in entanglement response by volunteering with Marine Life Studies while completing her bachelor's degree in Marine Science at California State University, Monterey Bay. She completed her senior thesis on seafloor mapping, focusing on the Monterey submarine canyon. She learned about whale behavior, species identification, and other skills needed to be a marine researcher through the Marine Life Studies' Research Scientist Program. She also worked with the Captain of Vessel Operations to learn about boat maintenance and function. While volunteering and working with Marine Life Studies, Marcos attended many whale disentanglement trainings. She responded to multiple entangled whales, and worked with many different higher-level rescuers. In 2016, she was hired as the Operations Manager at Marine Life Studies, where she has continued to work with entangled whales.
A typical day at work for Marcos involves updating a database of all the entanglement responses and reports that take place in California. She also participates in whale disentanglement responses and teaches and trains volunteer team members to assist in research surveys and disentanglement response. Asked about the best part of her job, Marcos says, "I love seeing people come together to accomplish a common goal. I like being involved in every aspect of the Program, whether it is researching different communication platforms, using new and improved camera set-ups, or learning different rescue techniques and technology. I find it advantageous to have working knowledge of all of the different aspects of the Program so I can help in any way I can."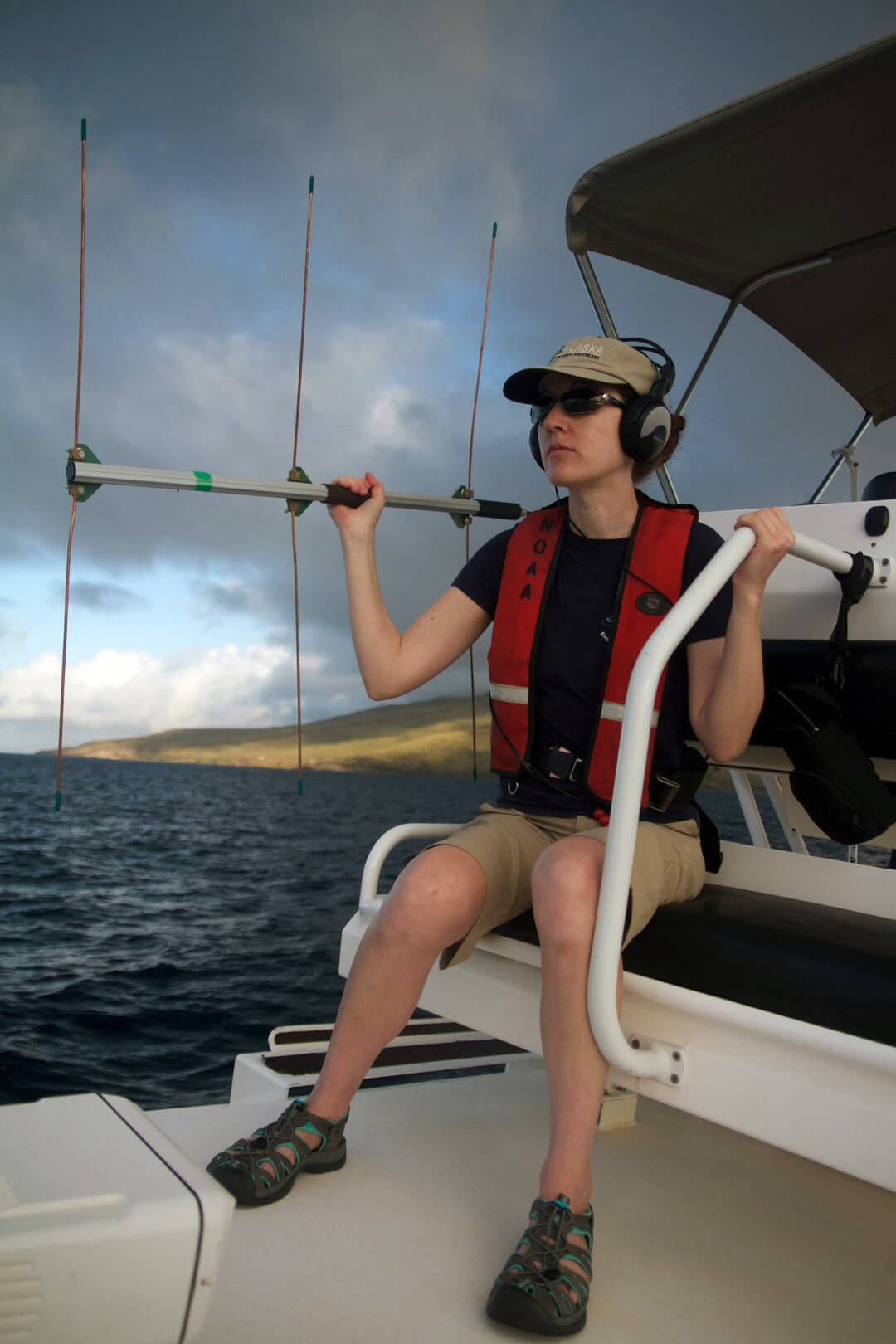 Rachel Finn
Rachel has volunteered with the Large Whale Entanglement Response Program since 2013. Most of the work she does involves curating data, managing an entanglement program website, assisting with writing papers, and other research projects. Rachel has a bachelor of science in Marine Biology and a master of science in Wildlife Biology and Conservation.
Prior to her involvement with the Program, Rachel volunteered, interned, and worked with marine mammal stranding response, rehabilitation, training, and husbandry. She decided to join the Program because it allows her to help whales that have been harmed by humans. The downside includes few paid positions in the entanglement field, where most are volunteers.
Rachel says the best thing about volunteering with the Large Whale Entanglement Program is the people. "Many of us have been working together for years and everyone is incredibly committed, hardworking, and supportive. The knowledge and skills that the team brings together are inspiring and what allows us to be successful during response efforts."
Kathi George
Kathi started as a volunteer with The Marine Mammal Center rescuing sea lions and removing the material they were entangled in. Later she had the opportunity to respond to an entangled humpback whale. After that experience, George was hooked and dedicated herself to large whale entanglement response.
She eventually co-founded California Whale Rescue, a volunteer organization dedicated to whale entanglement response and prevention. The organization was later acquired by the Center, where George is now the Director of Field Operations and Response. She holds a bachelor's degree in industrial engineering and is a master's candidate in Interdisciplinary Marine and Estuarine Sciences.
"There is no such thing as typical in this work," says George. "I spend a lot of time behind a computer or a phone—managing grants, planning research or responses—and attending meetings. When I'm not doing that, I love to get on the water and conduct research. One of the things I'm most proud of is shifting our work from being reactive to a report about an entanglement, to being proactive and conducting research while being prepared to respond to an entanglement."
George faced institutional challenges, including proving herself in a male-dominated field. She overcame these by showing up, gaining experience, collaborating, and keeping calm in dangerous and stressful situations. She is proud to contribute scientific knowledge of whales, and observe and interact with these incredible animals in their natural habitat. "And, most importantly," George says, "I get to work as part of a team with other scientists, marine biologists, fishermen, policy makers, and more—which provides me with a sense of camaraderie and collaboration."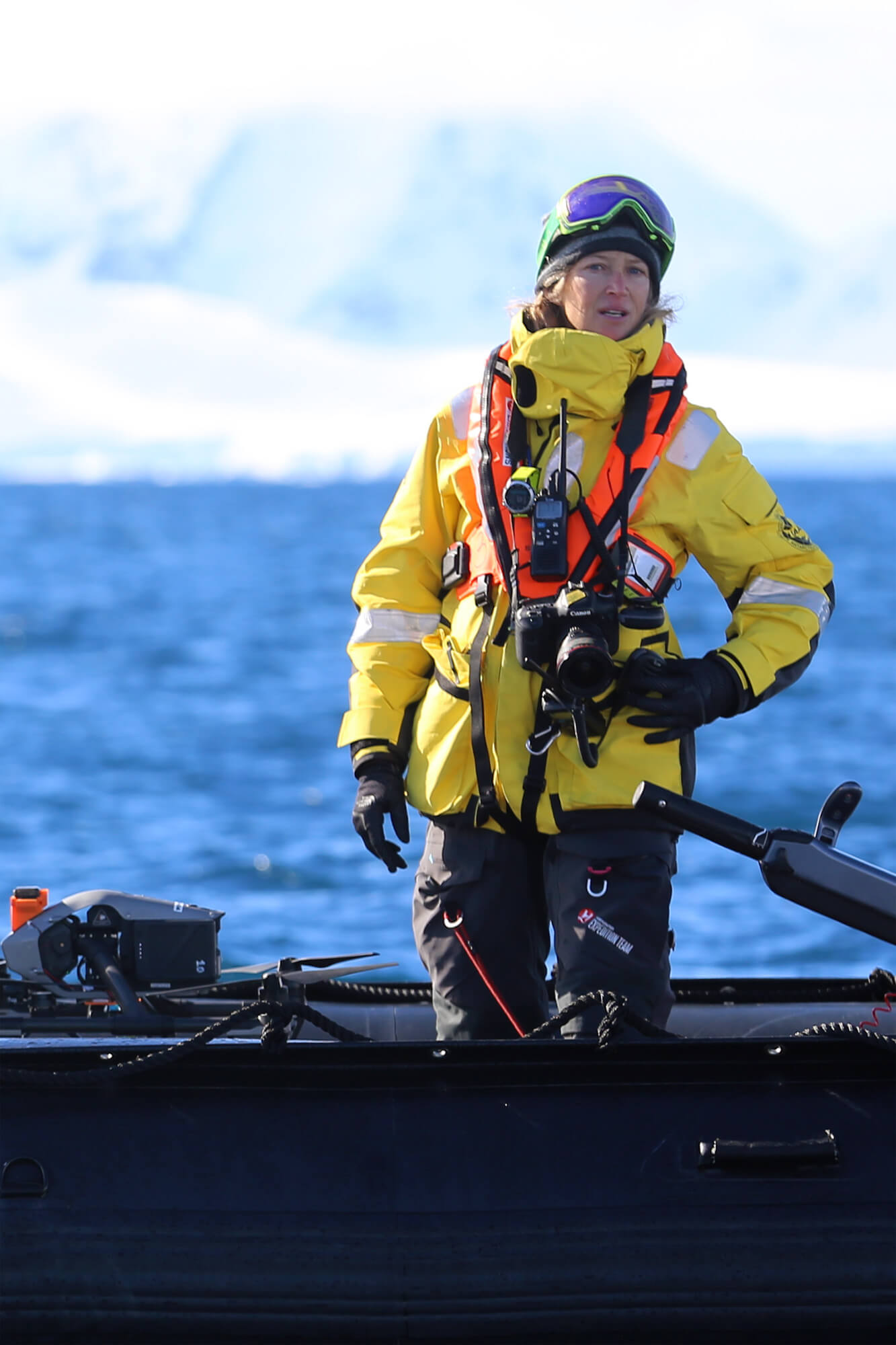 Kiirsten Flynn
Kiirsten is a research biologist with Cascadia Research Collective, a non-profit research organization in Washington state. Her organization works from Northern Washington to Southern California studying blue, humpback, and gray whales as well as some dolphin species, all from rigid hull inflatable boats. Since they spend so much time on the water, Flynn and her colleagues are often the first people on site during a large whale entanglement event.
"I don't really have a 'typical' day at work," says Flynn. However, I do have seasonally typical days. December through about February I am in the office dealing with our data—lots of spreadsheets and photo processing from the previous year, and writing reports about our work. March through May, I am constantly looking at weather windows for research opportunities to investigate gray whales. June through November I am also looking at weather windows for survey opportunities for humpback and blue whales to research population dynamics."
"I have worked in a male-dominated industry—maritime and research biology—since 1999 when I attended Maine Maritime Academy for marine science and yacht operations. I have had to work harder and have not advanced at the same rate as my male counterparts. However, I have stayed true to my path because I love the ocean, science, and just being on the water. My advice to other women is to stay true to yourself and what you want in life, no matter what. My hope is that I can be a mentor to young women to do just that and empower them to do even more with their life because the ocean, whales, and research, needs all voices."
Working with Whales
Whales are unpredictable, wild animals. The size and power of large whales create risks to the disentanglement team. Response teams often closely approach whales in small vessels to document, identify, remove, and collect entangling gear. In addition, disentanglement tools, such as specialized knives, lines, and large buoys, can also present dangers for responders, including being pulled overboard.
Responders over the last 40 years have developed techniques that rely on working from a small inflatable boat with hooked knives on long poles. That keeps responders at a safe distance from the whale and reduces risks. Despite the difficult and sometimes dangerous nature of their work, responders find it incredibly rewarding. They are passionate about helping these magnificent creatures and are willing to put in the time and effort to keep West Coast waters safe for them.
What Members of the Public Can Do
The Program relies on reports of entangled whales from the public. If you encounter a whale that may be entangled, please contact your local Program via the 24/7 regional hotline or contact the U.S. Coast Guard on VHF CH-16. California, Oregon, and Washington region hotline: (877) SOS-WHALE (1-877-767-9425).
When reporting an entangled whale, please include the following information:
Whale location: Location of the animal
Entanglement description: A detailed description of the entangling gear or debris
Entanglement location: Where the entanglement is located on the animal
Whale movement and presence of other whales: The direction the whale is moving, and whether it is solitary or with other whales
Whale behavior: The behavior of the whale
Whale species: Species of the whale if possible
Whale size and condition: The approximate size and condition of the whale
Photo or video documentation: Photos and videos, if taken