What We Do
The Resource Assessment and Conservation Engineering (RACE) Division is a division of the Alaska Fisheries Science Center. The division includes scientists from various disciplines: fishery and oceanography researchers, geneticists, pathobiologists, technicians and other specialists and support staff. Scientists conduct research surveys and oceanographic studies to measure the distribution and abundance of commercially important fish and crab stocks in the eastern Bering Sea, Aleutian Islands and Gulf of Alaska. They also conduct various studies to learn more about Alaska's marine ecosystems. Because survey data are collected regularly over many years, scientists are able to understand trends in fish and crab population abundance over time and study how marine habitats and ecosystems change. Together with the commercial fishing industry, scientists are also exploring technological solutions or methods to help reduce bycatch and bycatch mortality.
Fisheries Behavioral Ecology Program
The Fisheries Behavioral Ecology Program conducts research aimed at understanding the relationships between fish behavior, environmental variables, both physical and biological and how they may influence the distribution or survival of economically important fish species. Additionally, the program analyses fishing gear performance and attempts to understand the stresses imposed on the fish and surrounding stocks during fishing activity. The overarching goal is to provide critical information needed to help improve stock survival, survey techniques and population abundance and distribution predictions.
Groundfish Assessment Program
The Groundfish Assessment Program regularly conducts bottom trawl surveys to assess the condition of groundfish and shellfish stocks in Alaskan marine waters. Key fish species include: walleye "Alaska" pollock, Pacific cod, arrowtooth flounder, yellowfin sole, and rock sole.
These surveys are conducted to establish the distribution and abundance of Alaska groundfish resources in the Gulf of Alaska, Bering Sea Shelf, Bering Sea Slope, and Aleutian Islands. Surveys, various tools and models are used by the program to help further understand fish and crab habitat use.
The Groundfish Assessment Program also investigates biological interactions with the environment to estimate growth, mortality, and recruitment to improve the precision and accuracy of forecasting future stocks.
Midwater Assessment and Conservation Engineering
The Midwater Assessment and Conservation Engineering Program combines midwater trawl surveys with acoustic echo integration technology to assess the population status of Alaska walleye pollock, whose stocks support the largest single commercial fishery in the United States, and Pacific hake stocks in the North Pacific and Bering Seas. Research is also conducted on fishing gear performance and fish behavior during the capture process in order to develop methods that reduce bycatch in commercial fishing operations.
Recruitment Processes Program
The Recruitment Processes Program studies marine ecosystems in the Bering Sea, Gulf of Alaska and Arctic. In particular, the program studies zooplankton and seeks to understand more about fish development, when fish are in the "nektonic" stage or able to swim freely in the water. Scientists also look at what influences whether or not larval fish survive to the age of "recruitment." Recruitment for commercially fished species occurs when they grow to the size captured or retained by nets or gear currently used in commercial fishing. For each species or ecosystem that we study, we attempt to understand what factors cause or contribute to population fluctuations.
Research Fishing Gear Program
The Research Fishing Gear Program helps to manage and develop scientific fishing gear that is used in support of survey research. By designing and testing gear that meets current fishing standards and creating experimental approaches, this program hopes to increase overall fish survival and lower bycatch numbers. Some nets may be outfitted with various electronic sensors such as dataloggers that collect depth, temperature and global position information. Additionally, camera or video "sleds" may be used to observe overall trawl performance and evaluate equipment for overall success.
Shellfish Assessment Program
The Shellfish Assessment Program conducts a wide range of research and surveys on various fish, crab and shellfish species to assess the distribution and abundance of various commercially important crab and groundfish resources in the eastern Bering Sea. The collected data is used to both aid the fishing industry in locating productive fishing grounds but also to help improve the viability of future stocks. Studies include: disease, habitat, discard mortality, reproduction, growth, culturing, and affects of ocean acidification.
---
Our Leadership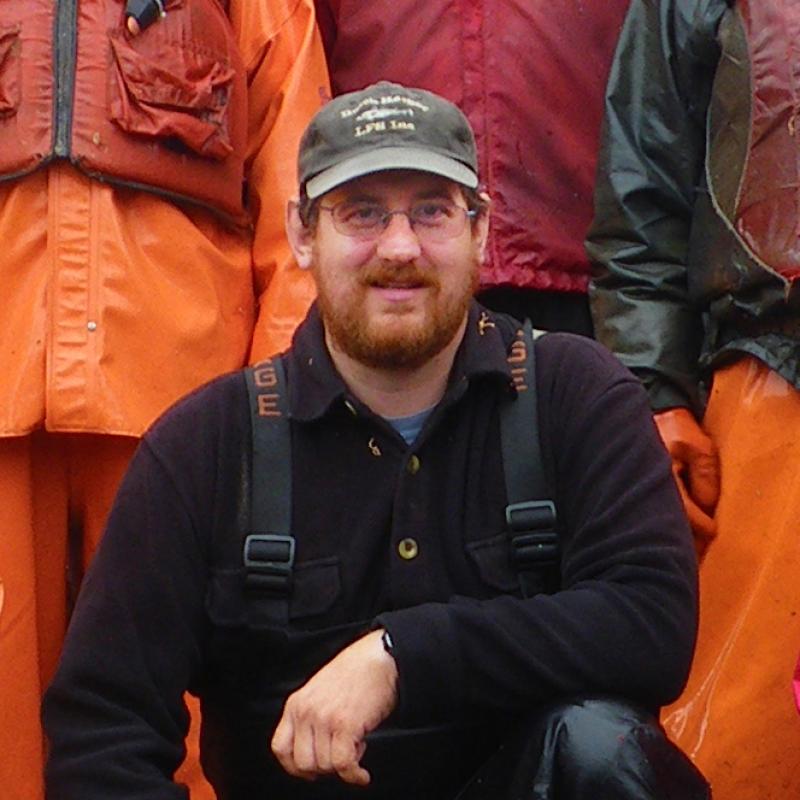 Lyle Britt
Prior to being appointed director of RACE in 2021, Lyle served as a fisheries research biologist in the division for 23 years where he coordinated and conducted bottom trawl surveys throughout Alaska used for stock assessment and ecosystem and climate monitoring and was the supervisory lead for the eastern Bering Sea bottom trawl survey group. Lyle is also a leading researcher in the study of light and optics in the ocean and its role in determining the visual capability and behavior of marine organisms.
Michael Martin
A biologist in the Groundfish Assessment Program for 20 years, Michael has spent over 1,000 days at sea and been chief scientist on more than 30 research cruises in both Alaska and the East Coast of the United States. His expertise is in, but not limited to, survey design and population estimation.
---
Management Team
Resource Assessment and Conservation Engineering
---
Other Locations
Kodiak Laboratory
The 25,000 square foot Kodiak Laboratory is part of the Kodiak Fisheries Research Center owned by the Kodiak Island Borough. The Center was designed with state-of-the-art seawater and necropsy labs and is home to a multi-agency marine research facility. Resource Assessment and Conservation Engineering scientists for both Shellfish and Groundfish Assessment Programs conduct field and laboratory research on the abundance and distribution of marine invertebrate and fish populations, their life history, population dynamics, habitats, ecological interactions, and impacts of human activities such as bycatch, discard mortality, and habitat alteration. Scientists also provide information necessary to conserve, protect, and manage economically important Alaskan shellfish resources, including king, Tanner, and snow crabs, for the benefit of the nation. NOAA Fisheries W.F. Thompson Memorial Library (1800 sq ft) is housed here.
Newport Laboratory
The Alaska Fisheries Science Center's Fisheries Behavioral Ecology Program is located at the Oregon State University's Hatfield Marine Science Center in Newport, Oregon. The Hatfield Marine Science Center was created to serve the scientific needs of various organizations and government agencies and includes the Oregon State University building constructed in 1965 and the NOAA facilities which were completed in 1981. NOAA and Oregon State University staff at the Hatfield Center are currently located in two federal government-owned buildings which are managed by the Northwest Fisheries Science Center. The Fisheries Behavioral Ecology Program conducts laboratory research on the behavioral responses of commercially important marine fish to environmental factors that are critical to controlling distribution and survival from egg to adult. Research also focuses on defining the factors which affect post-capture survival and mortality of fish that are caught as bycatch. The experimental laboratories consist of more than 17,000 cubic feet of tank space housed in more than 18,000 square feet of wet laboratory space supplied with 500 gallons per minute of high quality seawater, 200 gallons per minute of which can be chilled to 3° C. Species of current interest include walleye pollock, sablefish, and Pacific halibut.