Resources for Fishing
Resources for commercial, recreational (sport), and subsistence fishing across the U.S. regions.
NOAA Fisheries works in partnership with regional fishery management councils to manage our nation's fisheries. We want everyone to be prepared with the best information available before heading out on the water. From fishing permits and licenses to the most up to date regulations, all of the resources you need to have a safe and productive fishing day are here. Successful fisheries management is only possible when everyone works together to ensure our nation's living marine resources are sustainable.
Commercial Fishing
Image
Permits and Forms
Search for fishing permits and related requirements by region, species, or fishery management plan.
---
Image
Tools and Resources by Region
Find out more about annual catch limits, seasonal closures, federal fishing regulations, and state regulations for commercial fishing.
---
Image
Fishery Management Information
Find current rule-making actions—the latest notices and proposed rules open for comment as well as final rules for various fishery management plans and related amendments.
Fishing rules and regulations by region
---
Image
Fishery Management Plans
Resources for Commercial Fishing in U.S. Federal Water
Find permits, landings, and other resources for commercial fishing in U.S. federal water.
Recreational Fishing
Image
Do I Need a Permit or License?
State Regulations and Licenses
If you are fishing in state waters (generally 0 to 3 nautical miles off shore), contact your state fish and wildlife agency for a fishing license.
Find state fishing regulations and licenses
Federal Fishing Permits
Since January 1, 2011, a saltwater recreational fishing license or registration from any state or U.S. territory except Hawaii, Puerto Rico, or the U.S. Virgin Islands, automatically registers you in the National Saltwater Angler Registry and you do not need to take further action. Otherwise, please visit the registry to ensure you are registered. If you plan on fishing anywhere for highly migratory species—such as tunas and billfish—or for bottomfish in Hawaii, check out the links below to get the permits you need.
Atlantic highly migratory species permits
Hawaiian Islands bottomfish permit
---
Image
Where Can I Fish?
Anglers on the Atlantic and Gulf coasts can use our comprehensive, online database of public recreational fishing sites from Maine through Mississippi and Puerto Rico. Use the "Guest Login" button to browse recreational access points—and the amenities at each location—in your state.
Search public recreational fishing sites
Fishing in National Marine Sanctuaries
---
What Can I Catch in Federal Waters?
The eight regional fishery management councils establish specific management measures (such as fishing seasons, size limits, and bag limits) based on the best available science, which are then implemented by NOAA Fisheries. Be sure to review the recreational fishing regulations for the region you are fishing in.
American Samoa Federal Fishing Regulations
Alaska Federal Recreational Fishing Regulations
Atlantic Highly Migratory Species Recreational Fishing Compliance Guide
Caribbean Federal Recreational Fishing Regulations (PDF, 14 pages)
Greater Atlantic Federal Recreational Fishing Regulations
Guam Federal Fishing Regulations (PDF, 22 pages)
Gulf of Mexico Federal Recreational Fishing Regulations
Northern Mariana Islands Federal Fishing Regulations
South Atlantic Federal Recreational Fishing Regulations
Federal Rules & Regulations
In partnership with the regional fishery management councils, interstate marine fisheries commissions, international fisheries management organizations, and under the guidance of the Magnuson Stevens Conservation and Management Act, NOAA Fisheries plays a key role in the implementation and enforcement of federal fishery rules and regulations in the U.S. Exclusive Economic Zone (3 to 200 nautical miles off shore).
Learn more about federal rules and regulations
---
Image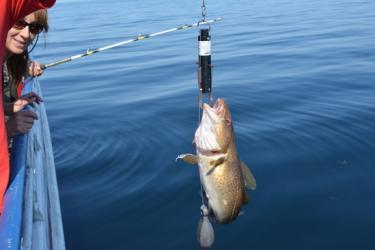 What Responsible Fishing Practices Should I Follow?
Learn what you can do to be a responsible steward of our ocean resources.
---
Image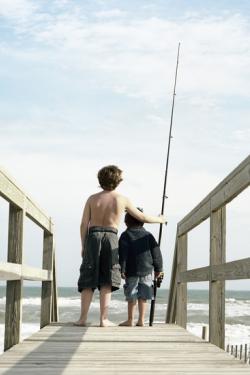 How Can I Get Involved?
Find out how you can get involved in monitoring the health of our oceans and fish resources.
---
Other Resources
Resources for Recreational Fishing in U.S. Federal Water
Find permits, information about what you can catch, and other resources for recreational fishing in U.S. federal water.
Subsistence Fishing
Alaska: Subsistence Fishing
Image
Subsistence halibut is halibut caught by an eligible rural resident or a member of an eligible Alaska Native tribe for direct personal or family consumption as food, sharing for personal or family consumption as food, or customary trade. Before fishing under the subsistence halibut regulations, fishermen must obtain a Subsistence Halibut Registration Certificate. 
Learn more about subsistence fishing in Alaska
---
Pacific Islands: Non-Commercial Fishing
Image
NOAA Fisheries recognizes the fundamental role that non-commercial and recreational fishing plays in the livelihoods of Pacific Islanders. We work alongside fishermen, partners, and others to conserve fish populations and protect our unique fishing traditions.
Learn more about non-commercial fishing in the Pacific Islands
---
West Coast: Tribal Fishing
Image
Many Pacific Northwest Indian tribes have treaties reserving their right to fish in "Usual and Accustomed" fishing places and include many species in addition to salmon and steelhead. These tribes are co-managers of the fishery resource in partnership with the states and federal government.
Subsistence and Tribal Fishing in the U.S. Pacific Ocean
Find information on subsistence and tribal fishing in the U.S. Pacific Ocean.
Fisheries by Region
NOAA Fisheries helps maintain the health and sustainability of our nation's fisheries through five regional offices and six science centers. Use the links below to find regionally specific:
Rules and regulations
Permits and licenses
Online resources
Other important tools for fisheries in your region
Alaska
Image
---
New England/Mid-Atlantic
Image
---
Pacific Islands
Image
---
Southeast
Image
---
West Coast
Image
Regional Commercial and Recreational Fishing Resources
Requirements for fishing in federal water vary by region. Find permits, rules and regulations, and other fishing resources for your region.