The southeastern United States is home to the largest concentration of saltwater recreational fishing in America. Whether seeking iconic fish to catch for sport or for sustenance, recreational fishing in the Southeast generates more than $15 billion in sales annually for more than 4.5 million fishermen taking more than 36 million fishing trips every year.
The Southeast Regional Office is home to three fishery management regions: the Caribbean, the Gulf of Mexico, and the South Atlantic. They are authorized by the Magnuson-Stevens Fishery Conservation and Management Act to use best available science to manage and conserve marine fishery resources in federal waters from North Carolina through Texas, including Puerto Rico and the U.S. Virgin Islands.
NOAA Fisheries in the southeast works with three fishery management councils; the Gulf of Mexico, the South Atlantic, and the Caribbean Councils. The Councils are made up of state and territory directors, federal fishery managers, scientists, and fishing industry representatives appointed by each state's Governor. Council members identify how a fishery should be managed, using the best scientific data available, then develop a fishery management plan, and recommend regulatory actions to NOAA Fisheries.
Sustainable Fisheries' main objective is to maintain healthy fish stocks important to commercial, recreational, and subsistence fisheries. The goal is to increase long-term economic and social benefits to the nation from living marine resources.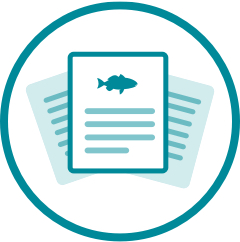 Stay up to date on fishery announcements and closures:
Sign up for e-mail bulletins at 

http://bit.ly/HQDUEU

. 

To receive important fishery related alerts via text message, including immediate fishery openings and closures, and significant changes to fishing regulations that happen quickly, opt-in for one or more of the following groups. Standard message & data rates may apply. You may opt-out at any time. 

Gulf of Mexico Recreational Fisheries Related Alerts

Text GULFRECFISH to 888777

Gulf of Mexico Commercial Fisheries Related Alerts

Text GULFCOMMFISH to 888777

South Atlantic Recreational Fisheries Related Alerts

Text SATLRECFISH to 888777

South Atlantic Commercial Fisheries Related Alerts

Text SATLCOMMFISH to 888777

Caribbean Fisheries Related Alerts